It's Wednesday! In case you are new to the book blogging world… Wednesdays are important because thats when Bloggers or Authors or Writers or Reviewers talk about an upcoming release that they are DYING to read! Today I will let you all know the book I have on pre-order… BUT I want you guys to let me know the book YOU are waiting for. I mean, I am a reviewer, so whatever you suggest will probably be put on my TO BE READ LIST.
So… What book am I waiting for this fine Wednesday?
RED QUEEN!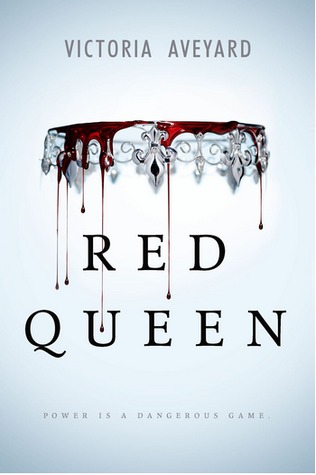 Summary from Goodreads:
Mare Barrow's world is divided by blood—those with red and those with silver. Mare and her family are lowly Reds, destined to serve the Silver elite whose supernatural abilities make them nearly gods. Mare steals what she can to help her family survive, but when her best friend is conscripted into the army she gambles everything to win his freedom. A twist of fate leads her to the royal palace itself, where, in front of the king and all his nobles, she discovers a power of her own—an ability she didn't know she had. Except . . . her blood is Red.

To hide this impossibility, the king forces her into the role of a lost Silver princess and betroths her to one of his own sons. As Mare is drawn further into the Silver world, she risks her new position to aid the Scarlet Guard—the leaders of a Red rebellion. Her actions put into motion a deadly and violent dance, pitting prince against prince—and Mare against her own heart.

From debut author Victoria Aveyard comes a lush, vivid fantasy series where loyalty and desire can tear you apart and the only certainty is betrayal.
Oh. My. God. Really? How can anyone not be excited to read this? Blood? Divide between two peoples? Star-crossed love? Action? Royalty?
THIS IS A MUST READ! Its on my TBR list and it should be on yours too! I mean….there really isn't that much to say about it because the summary is just THAT good!
Tip to all authors: This book became super insanely popular because it had an amazing cover and an awesome blurb. Nothing else has been released yet it is at the top of everyone's 2015 to-be-read pile. Simplicity is key with covers!
Until Next Time
Paige